07.06.2013 - 29.06.2013


Raissa Angeli | Darina Alster & Elis Unique | Robert Carrithers | Luis Cerdas Jaubert | Tina Winkhaus | Miron Zownir
opening on 7th of June 2013 at 8pm, with a special sound collage by Steve Morell and live surprise performance by Queer Riot Club Berlin
from 11 pm on after show party at Eschschloraque Rümschrümp with DJane Ida T (Prag) and live painting performance from Luis Cerdas Jaubert and Raissa Angeli along with live music from The Abject (Vero Mota & John Evans)
Internationally known German artists Miron Zownir and Tina Winkhaus join forces with two infamous Americanos: New York photographer and filmmaker Robert Carrithers and Costa Rican painter Luis Cerdas Jaubert to explore the theme of darkness each in their own unique way.
In dark uncertain times of economic crisis combined with globalization the unpredictable reality makes most people uncomfortable and feeling lost. Some claimed that the world would end December 21 2012. This exhibition will prove these heretics wrong and will shed some light on the darkness of the times we live in.


Tina Winkhaus and Miron Zownir were both influenced by the painter Francisco Goya, who was a chronicler of his times with horrifying and imaginary pictures of loneliness, fear and social alienation. He was a master at capturing the darkness in humanity, like Winkhaus and Zownir both do in their own unique and talented way today.

Robert Carrithers is originally from New York, but presently lives and works in Prague. He is a photographer and filmmaker of underground alternative culture in the various cities he has lived in, from '80s New York, London and Paris through Tokyo and back to Berlin. He has mostly worked with portraits of the people he has found interesting in the various scenes he has explored. He has never shied away from going into the depths of any underground scene to discover what can be revealed in the dark corners. Fairytales have always been very dark through the ages and have been a learning tool for children to adapt and to learn the hard lessons of life, but there is always a dark subtext to these stories.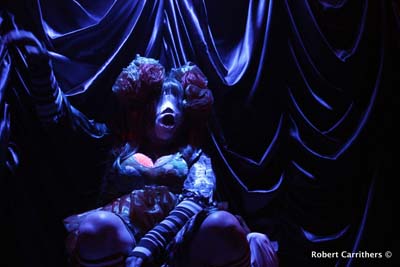 Robert Carrithers will premiere a series of photos of fairytales. He chose unique models from various underground scenes. The selected models chose a fairytale that they feel close to. Together they explored the subtext of darkness, sexuality and eroticism of the story. He then went on to capture the image with the models in a unique and modern way loaded with lots of dark humor.

Luis Cerdas Jaubert is a Costa Rican artist who moved to Prague to learn animation. He is actively involved in the art scene in Prague and continues to create in assorted countries. He works with a series of mediums from painting, silk screening, graphics, animation and film. He will present a series of paintings heavily influenced by the German painter Käthe Kollwitz. The paintings are a series of dark portraits of prostitutes and religious figures from Prague cemeteries. He will also present several paintings that were influenced by the three photographers he joins forces with. He will contribute to the overall atmosphere with his installations of objects representing human pain and suffering.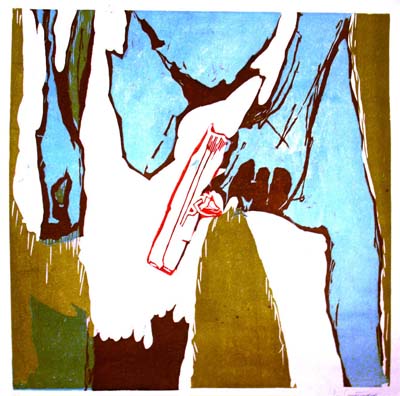 http://cargocollective.com/LuisCerdasJaubert

Jaubert will be working in collaboration with his creative partner, Cyprus visual artist Raissa Angeli. Angeli graduated at The Academy of Fine Arts in Prague. Her main medium is sculpture, but she also uses painting as a more direct and spontaneous medium to express. Angeli will show a series of paintings that represent her own "daily darkness"; childhood's lost memories and perception, secrets and desires, which - sometimes in denial - are oppressed, thus giving them the potential to create a prison of oneself. Furthermore she will do a live painting performance together with Jaubert.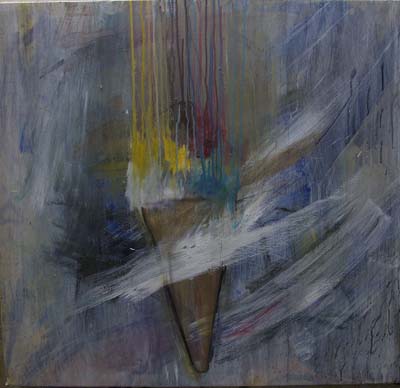 http://cargocollective.com/raissangeli
Tina Winkhaus will show a selection of her large-format pictures from the series Unter Tage_Shot by God, that offer an entrance into a clandestine labyrinth-like landscape of mountain passages. Each scene emerges with a sudden jolt, as if she has flicked on a torch, to reveal to us a cast of strange figures going about their, often dubious, activities.
Tina's work offers testimony to an intense preoccupation with the political and social themes of our age and a shrewd observation of our gestures. Rather than interpreting this world as a strict antithesis to our above ground society, the subterranean caverns reflect its hidden internal structure. She ventures a way to demask society and attempts to give each player a moment of self-reflection that spurs them towards emancipation. Learning, where this includes wanting to learn, not being afraid to learn, not being afraid to show that one has something to learn, is anyway a big theme in Tina's work. Unter Tage_Shot by God thematises in a provocative, unsettling and tangential manner what a worrying place life can be, but perhaps also, need not be.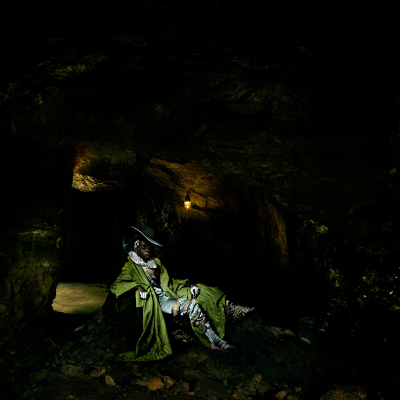 Miron Zownir, photographer, filmmaker and author, will show a series of his photos created throughout his career. Zownir has always explored the edges of society where most fear to tread. His photographies are sometimes difficult to look at, but when you do look you can see humanity stripped down naked and raw. His images do shock and do show the darkness of the soul as Goya did in his time. Zownir carries on the tradition of photography where Diane Arbus and Weegee left off and carries it a step further. He will show works of the extreme decadent pre-AIDS '80s New York to the '90s transition period in Moscow, where he risked his life daily, documenting the extreme anarchic conditions and moral collapse of the Soviet Union and finally up to the present dark period of the European Union depression.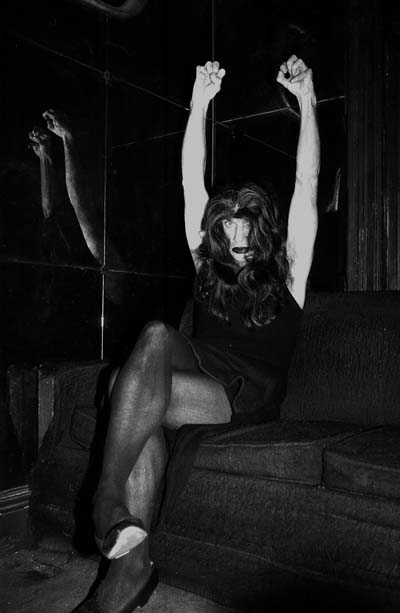 Darina Alster is visual artist, performer, publisher, curator and pedagog. She lives and works in Prague. She is mostly working with performance, spoken word, sound and video. Main topics of her artistic interest are Time, Identity and Relationships. In her performances, she exceeds the borders of known reality, interrupting real situations with unknown and irrational things, then they will transform to the subconscious. She is mostly experimenting with new media, combining them with archaic medias as Astrology, Tarot, Mythology, Fairytales or other kinds of Archetypes. Darina Alster will show the video Wrestling with Angel, which was produced in collaboration with Elis Unique.

Elis Unique is an experimental photographer, performance artist, poet, curator and art pedagogue. Originally from St. Petersburg she lives and works in Prague since 2003. In her opinion, "being an artist means being aware of the constantly changing world around and the ability to enunciate it." Her medium is experiment and currently her interest focuses on investigating the metaphysic boarder between body and soul. For example, body penetration gains a metamorphic dimension when Elis formulates her gender identity. She tends to collaborate with various artists to fuse mediums synestetically.

http://artlist.cz/?id=5731&lang=1
http://elis-unique.blogspot.com
To complete the exhibit the artists will create several booths covered with cloth. These booths will be modeled on New York '80s sex peep shows. The people in New York who used to go to these peep shows, entered a dark taboo forbidden zone. They will recreate these forbidden peep show zones and all who enter will see a video by each of the artists in the exhibit. Each artist will contribute his or her own video of what they think is dark and forbidden.


For the "Your Daily Darkness" exhibition at neurotitan Berlin multitalent Steve Morell has created music in the form of a sound collage by using various synthesizers and conventional instruments as well as various sound bites from other artists. Morell was inspired by the works of the exhibiting artists and the music has been created especially for their artistic profiles. He has created a unique composition, tuned perfectly to the paintings and photographs in a perfect interaction between art and music. Steve Morell is a producer, musician, remixer, DJ and founder of the record label "Pale Music Int." and the German underground festival "Berlin Insane".

https://de.wikipedia.org/wiki/Steve_Morell

This exhibition is made possible by the friendly support of WBM – Wohnungsbaugesellschaft Berlin-Mitte mbH and the Theaterhaus Berlin Mitte.