neurotitan shop & gallery

im Haus Schwarzenberg
Rosenthalerstraße 39
10178 Berlin

fon +49.(0)30.308 725 76
fax +49.(0)30.282 90 33



Öffnungszeiten
mo - sa: 12 - 20h

Informationen zum Schwarzenberg e.V. und
weiteren Veranstaltungen im Haus gibt's hier
14.03.2015 - 06.04.2015
Baggage
Vered Aharonovitch | Nivi Alroy | Dede | Itamar Inbar | Assi Meshullam | Nitzan Mintz | Lena Revenko | Amir Tomashov | Vera Valdimirsky | Noa Yekutieli
curated by Hagar Bril

opening on the 14th of March at 8pm
Easter opening hours
03.04.2015 12 - 8pm
05.04.2015 2 - 7pm
06.04.2015 1 - 8pm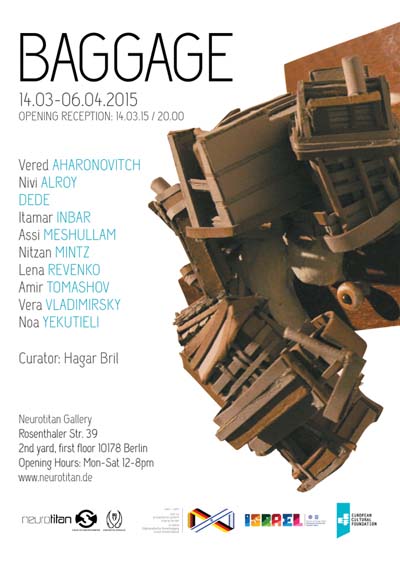 Introduction by Hagar Bril:
"When we travel between countries, we carry a baggage. First, a hand luggage - the small, 40x50 cm-sized bag which we are allowed to board on an airplane. Anything larger must be sent to the plane's trunk, and we must decide: which of our belongings are the most essential? What should we keep close to us, in case our suitcase is lost? As we travel with it through the airport, our carry-on is all that we have. In the state of transition, while we travel out of our homelands, our whole world is folded into it. We become backpackers, nomads.
The Israeli community in Berlin was established long ago, but with the new legislation allowing hundreds of young professional Israelis to live and work in Berlin, the relationship between the two countries was brought up to discussion. It is a complicated relationship, full with memories, pain, guilt and accusations, but also with hope, excitement, forgiveness and cooperation. The notion of immigration is one of the Israeli society's pressure point. When so many young people leave their homeland to live on a foreign ground, all the solid ideas of nationality, legacy and identity are starting to fall apart. Why is it so wrong to leave one place for another? Is it necessarily a bad thing?
Quests and journeys played, and still are playing, a great role in the Western culture. It is only due to leaving home and traveling to new places that we've reached out to new parts of the globe, or to the outer space. Our curiosity and our need of adventure have led the human kind to great achievements. We all wish we could discover, explore, experience, and reinvent ourselves, regardless of our backgrounds, at least once. Wouldn't it be great to start all over again in a new place? Leave your past behind and jump on a plane, on your way to a better future?
But then again, there is home. The place where we belong. Sometimes, the liberating feeling of nomadicity is replaced with a great need for a solid ground. Can we decide where this home will be? Can we choose it? And why is it so difficult to leave our homes? What is it about them that makes us stay? Although in German we can find the word 'Fernweh', many other languages don´t have a specific word to describe our longing for a new place. But there is one for home.

The ancient Greeks used a unique word to describe their homecoming after a great journey: Nostos (νόστος). Combined with Algos (ἄλγος, meaning pain), this word became the etymological origin for Nostalgia, literally meaning: Homesick.
Perhaps home is not a place, but a feeling. Though they stand as a small-scaled monument for our trips around the world, our baggage always contains our home within it, allowing each and every one of us to be wherever we want: to go away, and to return."
Vered Aharonovitch

Israeli artists based in Tel Aviv, working in painting, sculpture and installation. Vered holds a BFA from Bezalel Academy of Art and Design and a MFA from the The University of Haifa, Department of Fine Art. She is also one of the co-founders of Hanina, a non-profit artists' cooperative and gallery in Tel Aviv.
Her latest projects include a solo large-scaled installation at Alfred Gallery, Tel Aviv exheibitions in selected venues in Israel such as the Haifa Museum, Galon Art Gallery, as well as participating in Art Rotterdam, The Netherlands, and and Fresh Paint Art Fair for Contemporary Art, Israel.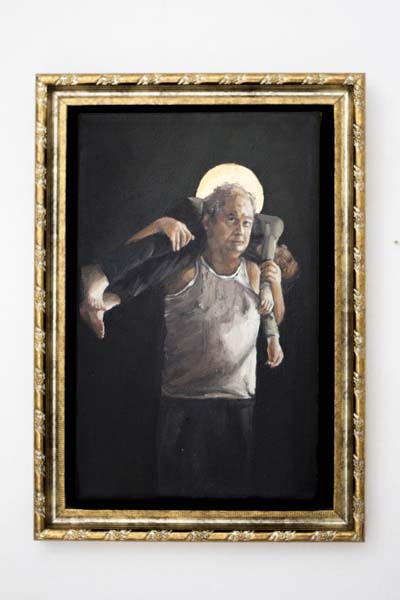 Nivi Alroy

Nivi Alroy (b. 1978) received her BFA from the Bezalel Academy of Art and Design in Jerusalem, and her MFA from the School of Visual Arts in New York. Alroy has been awarded the Ahuvi Most Promising Artist award, the Frida E. Issiccoff alumni award, the Mifal-Hapais grant, the Rabinovich grant, Tel Aviv special projects grant, and Two Trees studio grant. She has also participated in the Triangle workshop and the A.I. R gallery residency programs in New York. Alroy's work has been exhibited internationally, from the creation of an industrial pool at the Galapagos art space to a 19th century textile factory in Philadelphia. She also teaches Fine Arts and works as the AICF Fine Arts fellowship consultant. These days, she's working towards a show at Stein Rose gallery in New York and collaboration with the brain science institute at the Hebrew University.

Dede

Dede is a Tel-Aviv-based conceptual artist who utilizes various mediums to communicate within the public arena. He has been displaying his art on the streets of Tel-Aviv and other cities worldwide since 2006. His latest projects include the Glass-House Residency in Berlin, a Duo-Show with Nitzan Mintz at the Tel-Aviv Municipality Art Department, a group exhibition at the Front Room Gallery, NYC, and a solo exhibition at Bezalel gallery, Jerusalem. Dede's next solo exhibition will take place at Dan Gallery, Tel Aviv (Fall 2015).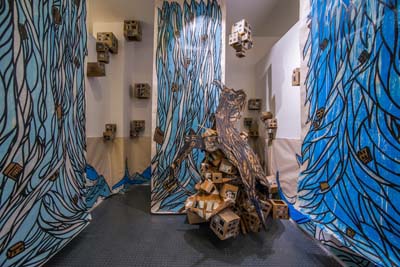 Itamar Inbar

Lives and works in Tel Aviv and Berlin. Itamar holds a B.F.A from Shenkar College of Engineering and Design, The Multidisciplinary Art Department, Ramat Gan, Israel, and he is a member at the art collective "Anti Mehikon" (Anti Eraser). In his work Inbar deals with psychological and political questions of the individual in society. He uses a wide spectrum of materials and media: drawings, videos, motors, projection mapping and every day ready-made objects. Focusing on site specific installations, Itamar emphasizes the use of space in ways that challenge the viewer in terms of looking at, moving around and experiencing the artwork.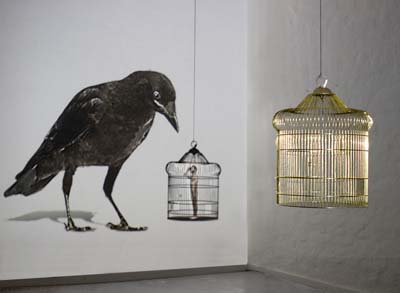 Assi Meshullam

Born 1975, lives and works in Tel Aviv. Assi holds a B.A. from the Department of Fine Arts and the Department of Archaeology, Haifa University (2000). He received various prizes and scholarships, among them are the Ministry of Culture and Sport Award for Plastic arts (2014), the Rabinovich Foundation and Tel Aviv Municipality Project Support Award (2012), and the Creativity Encouragement (Idud HaYetzira) Award from the Ministry of Education, Culture and Sport (2010). Selected venues of his solo exhibitions include the Artists' House, Tel Aviv, Julie M.Gallery, Tel Aviv, Ramat Gan Museum for Israeli Art, Ramat Gan and the Janco-Dada Museum, Ein-Hod Artists' village, Israel. His latest group exhibitions took place in The Russian Museum of Ethnography, Saint Petersburg, and Beit Hatfutsot Museum, Tel Aviv.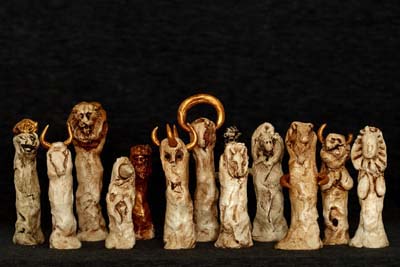 Nitzan Mintz

Nitzan is an Israeli street-poet and visual artist based in Tel Aviv. Her works are made in the public sphere as well as indoors. She will receive her BFA from the Department of Fine Art and the Department of Creative Writing at Minshar College of Art, Tel Aviv, by the end of 2015. She recently participated in group exhibitions at the Nahum Gutman Museum, Tel Aviv, Wilton's Hall, London, and Swater Gallery, Yekaterinburg (Russia), among others.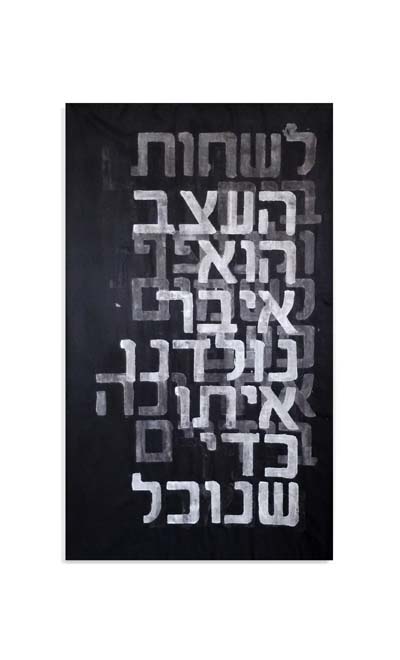 www.facebook.com/nitzan.mintz.street.poetry
Lena Revenko

Lena was born in Minsk, Belarus. At the age of 14 she moved to Israel. Lena holds a B.A. (Cum Laude) in Graphic Design from Bezalel Academy of Art and Design, Jerusalem. She received the America-Israel Award and Best Illustration Award. Her first solo show took place in Kyoto, Japan, 2006. Since then she had solo exhibitions in Tokyo, Tel Aviv and Shanghai, and participated in group exhibitions in Tel Aviv, Spain, Singapore, Seoul, London, and Art Basel.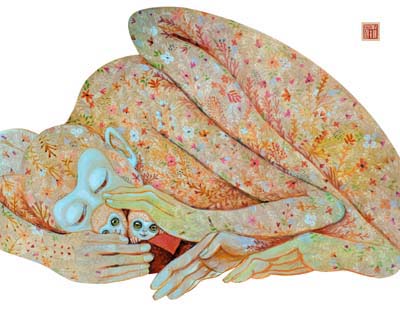 Amir Tomashov

Amir Tomashov is an Architect. Architecture is very present in his works, where he acts as an acute spectator, observing and absorbing processes of construction and destruction, building and ruin, combining them into one mechanism of action. Urban residues, neglect, abandonment, over-saturated building and other aggressive architectural actions are what motivates his thought and work process. These intertwine and merge to an aesthetic which seems a conceptual ideal rather than the pornography of destruction.

Tomashov, born in 1978, has exhibited in several solo exhibitions and in many group exhibitions at galleries, museums and alternative show rooms. His works are part of private collections worldwide.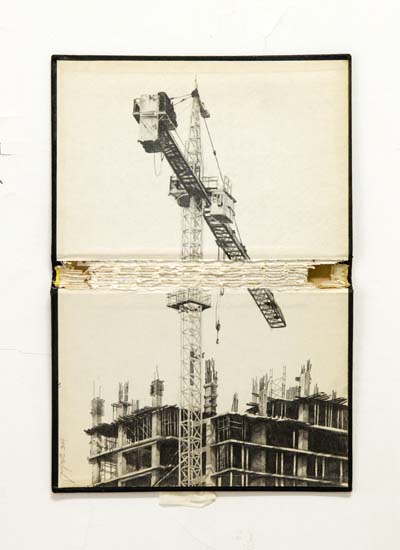 Vera Valdimirsky

The Photographer and collage artist Vera Valdimirsky was born in the Ukraine in 1984. She lives and works in Tel-Aviv, Israel. Vera received her Diploma in Photography from Kiryat Ono Photography College, and an additional B.F.A in Photography from Bezalel Academy of Arts and Design, Jerusalem. Vera recently participated in Fresh Paint Art Fair for Contemporary Art, Tel Aviv, and in the Photography Graduates Exhibition at The Open Museum of Photography, Tel-Hai, Israel. Her forthcoming projects include a Duo-show with Noa Schwartz at Feinberg Projects Gallery, Tel Aviv, and a group exhibition at Inga Gallery, Tel Aviv.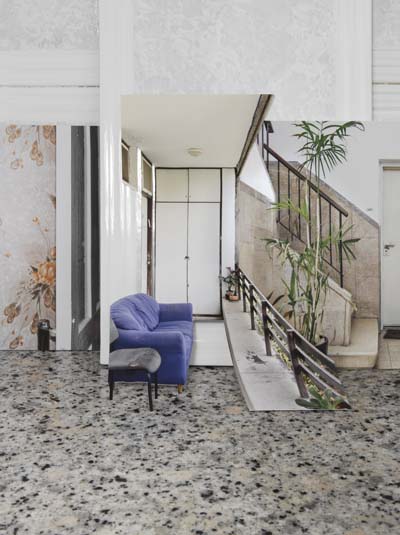 Noa Yekutieli

Noa Yekutieli was born in California (USA) in 1989 and immigrated to Israel as a young child. She lives and works in Tel Aviv (Israel).
For the past few years Yekutieli has been conducting an autodidactic research of paper-cutting technique focusing on 2-dimensional pieces in black and white, as well as on site-specific installations, which often include ready-made objects and combinations of the ready-mades and her paper-cut works. Yekutieli explores the fickle nature of memory through natural disasters and man-made disasters, which erase and change an entire physical reality, leaving only memories that gradually blur and dissolve to make room for a newly evolving reality.

In 2014 Yekutieli received the 'Young International Artist Award' by Outset & The Tel Aviv Arts Council, for the most promising artist and potential for substantive international success in the future artistic career. Yekutieli has participated in both group and solo exhibitions in Israel, Russia and Germany and is currently working on upcoming solo exhibitions in Israel, Taiwan and Germany.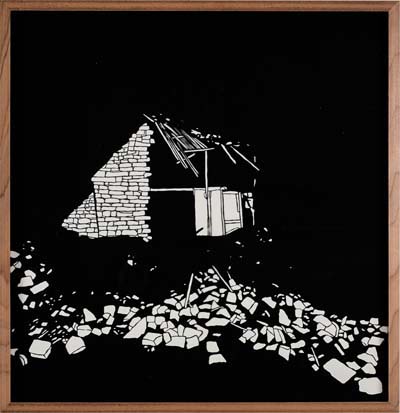 Hagar Bril


Hagar is a Tel-Aviv based curator and cultural producer. She holds a B.A. (Cum Laude) in the Honors Program in the Humanities and Arts, Tel-Aviv University, and a Diploma in Curatorship and Gallery Management from Shorshim Art School & Gallery, Auctioneers & Appraisers, Tel-Aviv. She is currently a M.A. student in the Interdisciplinary Graduate Program in the Arts, Tel-Aviv University. Hagar recently curated solo and group exhibitions at Bezalel7 Gallery, Jerusalem, The Municipality Gallery, Giv'ataim and Mazeh9 – Young Citizens Center, Tel Aviv. Future projects include a solo exhibition to Israeli artist Gidi Gilam at Merhav Art Space, Jaffa (May 2015) and the production of a group show at Alon Segev Gallery, Tel Aviv (September 2015).


This exhibition was made possible by the support of