23.09.2004

CURSE OV DIALECT & LUCAS ABELA aka JUSTICE YELDHAM & THE DYNAMIC RIBBON DEVICE
live!

im neurotitan shop um 21.00 Uhr

Curse ov Dialect - Genius or Insane?
Pull up a chair and get down with Australia's most unique and crazy hip-hop crew.
Reaching out to the world from their home in Melbourne, Australia, Curse ov Dialect consists of vocalists Raceless, Vulk Makedonski, Aturungi, and August the 2nd with Dj Paso Bionic. Production duties are shared by all five crew members. With a diverse range of backgrounds, their music comes off as a non-homogenized tapestry of culture. Their political raps, razor sharp writing, unique flows, and standout production accurately represents their knowledge of hiphop as world music and the multi-cultural climate of their homeland. Their live show combines unrelenting energy, fine tuned execution, and jaw dropping costumes to create a one-of-a-kind concert experience that tears the hiphop rule book to pieces. Curse ov Dialect leave their mark after just one performance or listen.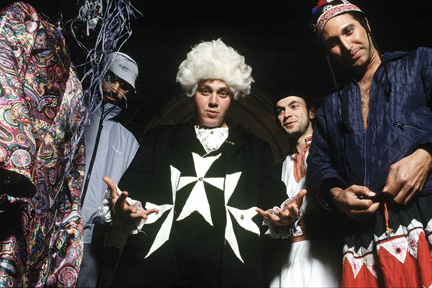 Lucas Abela aka Justice Yeldham & The Dynamic Ribbon Device
"PEELED HEARTS PASTE [justice yeldham] brought out a 3'x3' sheet of glass and some substance, covered his head and fucking went NUTS, screaming/ flapping/ cutting with the glass. after a few insane and gross minutes he broke the glass over his head and used a large shard as his instrument, smearing blood and goop all over the glass with his face disgustingly smashed against it. did i mention he was barefoot the whole time? fucking insane. glass all over the basement at this point.. someone yelled "SUICIDE!" and it almost happened." (WOLF EYES)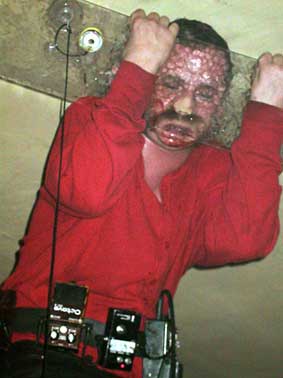 plus DJ's vorher/nachher/zwischendurch
PATRIC CATANI (Candy Hank)
PARABELLES DJ-TEAM (D1)
RAIONBASHI (Tochnit Aleph)
TASCHE