06.09.2019 - 28.09.2019
- please scroll down for english version -
Stripburger in print: Since 1992
- Slovenian comics delicacies with a distinctive international flavour -
David Krančan | Andrej Štular | Gašper Rus | Kaja Avberšek |Marko Kociper | Martin Ramoveš | Matej Stupica | Ciril Horjak | Matej Lavrenčič | Matej de Cecco | Saša Kerkoš | Nez Pez | Leon Zuodar |Mina Fina | Zoran Pungerčar (SI) | Marcel Ruijters (NL) | Max Andersson | Lars Sjunnesson (SE) Atak | Till Lukat | Arkadi (DE) | Danijel Žeželj | Igor Hofbauer | Dunja Janković (HR) | Lars Fiske | Bendik Kaltenborn (NO) |Matti Hagelberg | Jyrki Heikkinen (FI) | Javier Triviño Murillo (ES) | Stephane Blanquet | Pakito Bolino (FR) |Filipe Abranches | Oficina Arara (PT) | Mateusz Skutnik (PL) | Matei Branea (RO) | Andrea Bruno (IT) and some more!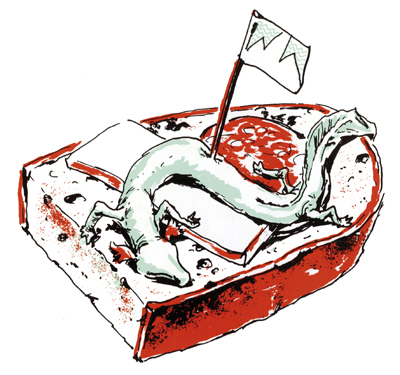 artist: JK
Eröffnung am 06.09.2019 um 19.00 Uhr
Film-Screening am 13.09.2019 um 19.00 Uhr: Tito on Ice und Flat Dog Town von Max Andersson
Das slowenische Comicmagazin Stripburger steht für einen einzigartigen Zusammenschluss von Künstler*innen, Stilarten und vielschichtigen Narrativen. Bereits seit den Anfängen im Jahr 1992 begann Stripburger, eine Vorreiterposition für die Veröffentlichung unabhängiger Comics in Slowenien einzunehmen.
Von Anfang an war es das Ziel, nationale Grenzen zu überschreiten, internationales Interesse zu wecken und Künstler*innen aus der ganzen Welt einzubeziehen. Heute ist Stripburger bekannt für den unablässigen Einbezug von Comicautor*innen und der lokalen Comicszene. Dies verbunden mit exzellenten Comics aus aller Welt, machen das Magazin so einzigartig und aktuell.
Die Ausstellung zeigt das Beste aus 27 Jahre Stripburger! Dazu zählen nicht nur Originalseiten ausgewählter Comics, sondern auch eine Vielzahl an anderen grafischen und gedruckten Artikeln: Siebdruckplakate, Cover, Comic-Bücher und Sondereditionen wie Honey Talks, Greetings from Cartoonia, GolažGollage, Stripble und Workburger.
Die ausgestellten Werke wurden von einer Reihe slowenischer und ausländischer Comiczeichner*innen signiert und präsentieren eine breite Palette an originellen Ausdrucksformen, künstlerischen Stilen und technischen Lösungen. Die Ausstellung soll dem internationalen Publikum einen Einblick in die vielfältigen und außergewöhnlichen zeitgenössischen Comics und grafischen Produktionen von Künstler*innen geben, die sich rund um das Stripburger Magazin versammelt haben.
Stripburger ist ein internationales Comic-Magazin, das im slowenischen Ljubljana veröffentlicht wird. Mit der ununterbrochenen Veröffentlichung seit mehr als einem Vierteljahrhundert ist es heute eines der international bekanntesten Phänomene in der slowenischen Comicszene und ein wichtiges Mitglied der "worldwide independent comics 'conspiracy' ". Im Laufe der Jahre strebte Stripburger immer mehr danach, gesellschaftskritische und auch prekäre Themen zu behandeln wie Wahnsinn, Behinderungen, Sexualität, Ökologie, Krieg und Menschenrechte. Sie alle sind zu Spezialthemen des Magazins geworden. Das Neueste unter ihnen ist Workburger, eine Sammlung von Comics, die sich mit zeitgenössischen Arbeitsverhältnissen befasst. Weitere Aktivitäten des Magazins liegen außerdem bei Comic-Ausstellungen, Workshops, Vorträgen und ähnlichen Projekten mit dem Ziel, die Comic-Kultur und Kreativität in Slowenien und im Ausland zu fördern.
www.facebook.com/stripburgercomix
Opening: Friday, 6th September 2019, at 7pm
Film Screening: Friday, September 13th, at 7 pm Tito on Ice and Flat Dog Town by Max Andersson
From the crossroads of Europe comes Slovenian comics magazine Stripburger with its mélange of artists, styles and narratives. After its first steps in the distant 1992, Stripburger became a pioneer of publishing independent comics in Slovenia. Since its very start, it aimed to break across national borders, to attract international interest and to include artists from all over the world. Today, Stripburger is known for its ceaseless exploration in search of new comics authors and local comics scenes. This, and of course excellent comics from all over the world, is what makes its flavour so unique and up to date!
The exhibition at the neurotitan gallery presents the very best of Stripburger's 27 years long print production: not only original pages from selected comics, but also a vast amount of other graphic and printed goodies - silkscreen posters, covers, comic books and special editions such as Honey Talks, Greetings from Cartoonia, GolažGollage, Stripble and Workburger.
Signed by a bunch of Slovenian and foreign comics artists, the exhibited works present a wide range of original expressions, artistic styles and technical solutions. The exhibition aims to provide the international public with a glimpse of the diverse and exceptional contemporary comics and graphic production of artists gathered around the Stripburger magazine.


Stripburger is an international comics magazine published in Ljubljana, Slovenia. With more than a quarter-century of continuous publication, it is today one of the internationally best-known phenomena in the Slovenian comics scene and an important member of the worldwide independent comics 'conspiracy'. Over the years, Stripburger tried to send out a message about topics that were somewhat ostracised or stereotyped. Madness, handicap, sexuality, ecology, war and human rights have all made it into Stripburger's special issues. Latest among them is Workburger, a collection of comics revolving around the topic of contemporary work. Additionally, an important part of the magazine's activities are comics exhibitions, workshops, lectures, and similar projects with the goal of promoting comic culture and creativity in Slovenia and abroad.
www.facebook.com/stripburgercomix
AUCH EMPFEHLENSWERT!
13.09.2019 - 29.03.2020 comiXconnection im Museum Europäischer Kulturen
15.09.2019 ab 12.00 Uhr Graphic Novel Day beim internationalen literaturfestival berlin
Stripburger's exhibition is supported by the Slovenian Book Agency (JAK) and the Slovenian Culture Institut Berlin