06.08.2022 - 20.08.2022
Kiosk Ukraine
Offenes Atelier und partizipative Ausstellung von ukrainischen Künstler*innen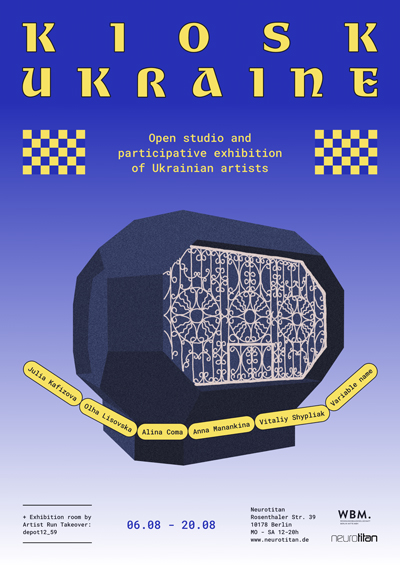 -scroll down for english version-
KIOSK UKRAINE ist eine Pop-up-Ausstellung und ein offenes Atelier, organisiert von der Galerie neurotitan in Zusammenarbeit mit dem Kollektiv Variable Name (Valerie Karpan und Marina Marinichenko).
Das Projekt bietet ukrainischen Künstler*innen einen Raum für Produktion, Vernetzung und Präsentation. Ergänzt durch die Archivausstellung des Kiewer Kunstraums depot12_59 im Rahmen der Initiative Artist-run takeover zielt das Projekt darauf ab, ein besseres Verständnis der zeitgenössischen ukrainischen Kunstszene im Exil herzustellen und die Vernetzung mit anderen Kunst- und Kulturschaffenden zu fördern.
Seit dem Beginn der russischen Invasion in der Ukraine sind zahlreiche ukrainische Künstler*innen und Kulturschaffende nach Berlin geflohen. In den letzten fünf Monaten haben sie vielfältige Strategien zur internationalen Repräsentation ihrer Arbeit entwickelt, doch der Weg in das Alltags- und Arbeitsleben, sowie der Zugang zu den nötigen Ressourcen wie Ateliers und Arbeitsmaterialien ist nicht einfach.
Im Rahmen von KIOSK UKRAINE nutzen die teilnehmenden Künstler*innen die Ausstellungsflächen als Produktionsort und zeigen ihre Arbeiten. Ziel ist es, nicht nur die eigene künstlerische Arbeit fortzusetzen, sondern auch einen materiellen und immateriellen Austausch mit Berliner Künstler*innengemeinschaften und dem Publikum zu etablieren.
Das offene Atelier lädt die Besucher*innen vom 6. bis 20. August zum Dialog und zur Mitgestaltung ein. Darüber hinaus wird an dem Wochenende vom 12. bis 13. August ab 16 Uhr ein Programm mit öffentlichen Workshops ukrainischer Künstler*innen angeboten.
Workshop Programm:
Freitag, 12.08.2022
16 Uhr Variable Name
Kurzer Vortrag über selbstorganisierte Strategien zur Repräsentation und zur Aufrechterhaltung der Kunstproduktion nach den russischen Invasionen 2014 und 2022. Vorstellung der Initiative artist-run takeover von VARIABLE NAME.
17 Uhr Alina Coma
Gemeinsames Gestalten von Kostümen und Gespräch mit der Modedesignerin und Illustratorin ALINA COMA.
19 Uhr Julia Kafizova
Selbstportrait-Fotografie-Workshop und Künstlerinnengespräch mit JULIA KAFIZOVA
Samstag, 13.08.2022
15 Uhr Anna Manankina
Entwicklung von Drehbüchern für VR - Workshop mit ANNA MANANKINA.
16:30 Uhr Olga Lisovska
Grafik-Workshop mit OLGA LISOVSKA.
18 Uhr Vitalii Shupliak
Künstlergespräch mit VITALII SHUPLIAK.
19-22 Uhr DJ set from BE_CA_DI
DJ Set BE CA DI.
Ost-Ukraine, Resident @shumrave, Sloviansk, UA
live analog, techno, minimal techno, ambient, drone, abstract, tech house, deep techno, house
Für die bessere Planung freuen wir uns über Voranmeldungen für die Workshops an annika@neurotitan.de
An dem Projekt beteiligte KünstlerInnen:
Alina Coma, Anna Manankina, Julia Kafizova, Olha Lisovska, Variable name|Назва змінна, Vitalii Shupliak

KIOSK UKRAINE
KIOSK UKRAINE ist Teil des Neurotitan-Programms Yes we're Open, das darauf abzielt, ein breites Publikum außerhalb des traditionellen Galeriebetriebs zu erreichen und den direkten Austausch mit Künstler*innen zu fördern.
Artist-run takeover
Artist-run takeover ist eine Initiative, die darauf abzielt, zeitgenössische ukrainische Kunst zu zeigen, die durch von Künstler*innen betriebene subkulturelle Räume präsentiert wird. Als dynamische Strukturen, die eng mit den lokalen Communitys verbunden sind, können solche Räume verschiedene Ansätze zum Verständnis der ukrainischen Kultur vorschlagen.
DEPOT12_59
DEPOT12_59 ist ein von Künstler*innen betriebener Raum, der von Tamara Turlyun, einer Künstlerin, Lehrerin und Kuratorin und Andriy Lyashchuk, einem Ingenieur, gegründet wurde. Für diejenigen, die bereit sind, die Angst vor dem "Anderen" zu überwinden, bietet Depot12_59 vielfälftige, mitunter versteckte Erfahrungen.
English version
Kiosk Ukraine
Open studio and participative exhibition of Ukrainian artists
KIOSK UKRAINE is a pop-up exhibition and open studio organized by neurotitan gallery in collaboration with the collective Variable Name (Valerie Karpan und Marina Marinichenko).
The project offers Ukrainian artists a space for production, networking and presentation. Accompanied by the archive exhibition of the Kyiv art space depot12_59 as part of the Artist-run takeover initiative, the project aims to create a better understanding of the contemporary Ukrainian art scene in exile and to promote networking with other professionals in the field of art and culture.
Since the beginning of the unjustifiable Russian invasion of Ukraine, numerous Ukrainian artists and cultural workers have fled to Berlin. In the last five months, they have developed a variety of strategies to represent their work internationally, but finding their way into everyday life and work, as well as accessing the necessary resources such as studios and working materials, is not easy.
Within the framework of KIOSK UKRAINE, the participating artists use the exhibition space as a production site and show current works. The aim is not only to continue their own artistic work, but also to establish a material and immaterial exchange with Berlin artist communities and the public.
The open studio invites visitors to dialogue and participate from August 6 to 20. In addition, a program of public workshops by Ukrainian artists will be offered on the weekend of August 12-13, 4 p.m..
Workshop Program:
Friday, 12.08.2022
4 p.m. Variable Name
Short talk about self-organised strategies for representation and to maintain production of the arts after the Russian invasions 2014 and 2022. Introduction of initiative artist-run takeover by VARIABLE NAME
5 p.m. Alina Coma
Collective design of costumes and conversation with fashion designer and illustrator ALINA COMA.
7 p.m. Julia Kafizova
Self portrait photography workshop and artist talk with photographer JULIA KAFIZOVA.
Saturday, 13.08.2022
3 p.m. Anna Manankina
Development of scripts for VR – Workshop with ANNA MANANKINA
4:30 p.m. Olga Lisovska
Graphic workshop with OLGA LISOVSKA.
6 p.m. Vitalii Shupliak
Artist-talk with VITALII SHUPLIAK.
7-10 p.m. Uhr DJ set from BE_CA_DI
DJ Set from BE CA DI.
Eastern Ukrainian dj, musician resident of @shumrave , Sloviansk,UA

live analog, techno, minimal techno, ambient, drone, abstract, tech house, deep techno, house
For better planning we appreciate registrations for the workshops. Please send them to annika@neurotitan.de
Artists involved in the project:
Alina Coma, Anna Manankina, Julia Kafizova, Olha Lisovska, Variable name|Назва змінна, Vitalii Shupliak

KIOSK UKRAINE
KIOSK UKRAINE is part of Neurotitan's Yes we're Open program, which aims to reach a broad audience outside the traditional gallery setting and to promote direct exchange with artists.

Artist-run takeover
Artist-run takeover is an initiative that aims to show Ukrainian contemporary art represented through grassroots artist-run spaces. Being dynamic structures closely tied with local cultural communities, such spaces may propose diverse approaches to the understanding of Ukrainian culture by worldwide audiences.

DEPOT12_59
DEPOT12_59 is an artist-run space founded by Tamara Turlyun – an artist, teacher, and curator, and Andriy Lyashchuk, who is an engineer. Although, sometimes it seems that the space has more co-creators. For those who were ready to overcome the fear of the 'Other', Depot12_59 proposed diverse hidden experiences.
Diese Ausstellung wird ermöglicht durch die freundliche Unterstützung der WBM Berlin-Mitte