05.09.2015 - 26.09.2015
werk.statt.show 2015 beton, stahl, taube
ann CAZ.L | KAI | Peter Schütze | VELA
special guests: Sandra Dick | Davide Faranda | Bodo Albrand | Fari Fotoalist | Horst-Steel

Photo: Sandra Dick
The exhibition BETON, STAHL, TAUBE (Concrete, Steel, Pigeon) presents the individual works of four artists from Werk.Statt.44: KAI, Peter Schütze, VELA and ann CAZ.L.
Four different concepts, aesthetics and techniques meet with the common central element STAHL. CONCRETE, as an accompanying material stands for the radical and uncompromising nature inherent of the works, while the TAUBE is the amused appreciation of the metropolitan origin of these very immediate sculptures, installations and urban art.
Werk.Statt.44 is a metal workshop in which steel is treated and processed in various artistic ways. Island-like, surrounded by the faceless chic of the new Berlin Centre, it resides in close proximity to the Berlin TV-Tower; an oasis of learning and creativity embedded in cargo containers full of object's d'art collections, equipment, a green rooftop terrace and framed by droning sound boxes.
For four consecutive years the resident artists have been presenting their annual show there on their own premises. This year's show however, due to the great success of past exhibitions, will move to the larger rooms of neurotitan gallery at Haus Schwarzenberg. From 5 till 26 September 2015 the works of KAI, Peter Schütze, VELA, ann CAZ.L and other guest artists will be on display. In addition there will also be the customary performances and concerts.

KAI
KAI, co-founder of West Berlin's legendary artist group Dead Chickens and Lord over Werk.Statt.44, now works in his own name as metal artist and performer. His welded objects are HardArt pure. His style is avant-garde, while deeply contradictory: Poetic encounters Raw, Rusty and Sharp-edged. The materials of his kinetic sculptures and installations are steel, concrete and waste oil. From these he creates urban scenarios, into which he integrates aspects of nature and culture in fantastical – whirring, pounding and grinding – ways.
In addition to sculptures, KAI will also present a mechanical press, uncompromisingly crushing outdated technology.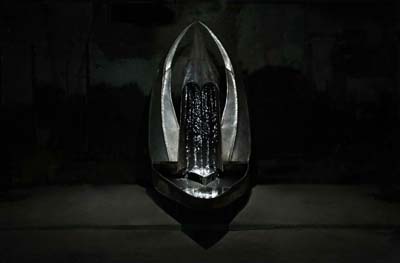 Photo: Lucie Jansch
Peter Schütze
The Berliner Peter Schütze, a trained dental technician, originally began by creating filigree, cast-metal miniature figurines and jewellery, though today he welds large format.
Tension reigns under the polished surface of his sculptures, bearing witness to his passion for human movement. Peter Schützes tendency towards perfectionism provides his characters with an individual expressiveness. He needs welding like we need air to breathe. For him the halls of Werk.Statt.44 are a place of tranquillity in the midst of everyday madness. A place where tools, machinery and steel make sense.
In addition to his sculptural works, Peter Schütze will show his collection of filigree steel jewellery.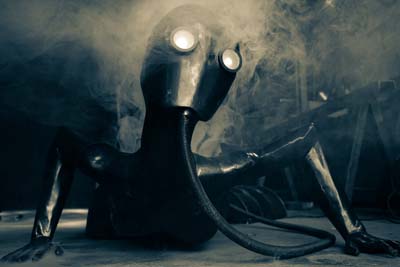 Photo: Fari Fotoalist
VELA
The multi-talented VELA comes from Bulgaria and early on stage and costume design, performance art, graphic design, sculpture and collages where her domains. 17 years ago she channelled her passion into music and began touring the world as a DJ and theatre music producer.
Since she began welding two years ago, however, she has turned more and more to the visual arts. In a very short time it has here found her own visual language. In her series Chaos and Order, VELA creates structured surfaces from small parts, a seemingly random collection of connections, and shapes them into sculptures. Her forms are deliberately cold and sharp-edged, dealing with life's main forces, randomness and regularity, exuding awe and attraction simultaneously.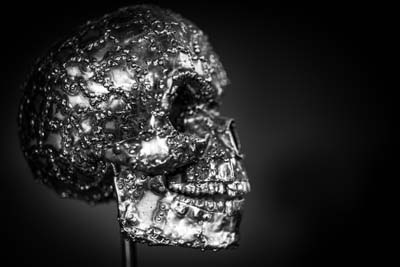 Photo: Fari Fotoalist
Ann CAZ.L
made her debut with Werk.Statt.44 by producing a large scale steel sculpture of bird feathers which has been has been "giving Haus Schwarzenberg wings" for the last three years. But years earlier, ann discovered the illegal medium road for herself under the tag CAZ.L. Appropriating urban architecture for her ever growing collection of playful animals from across the world and frost-free high divers, are sparkling from the city walls. Alongside the increasing sophistication and refinement of her stencil technique, she started working indoors. As a newcomer in 2014 she reached the finale of the World Stencil Art Prize.
At Werk.Statt.44 CAZ.L found ideal conditions to develop her concepts further: coarse and bulky materials replace paper as the canvas on which she brings her filigree stencils to full expression. For these seemingly alchemistic experiments she confronts metal with heat, chemicals, sand and colour, resulting in intense, large-format images.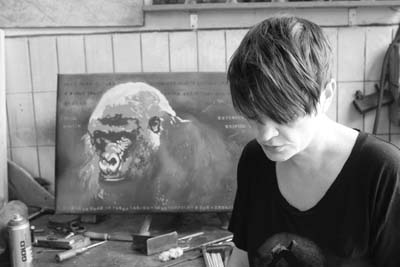 Photo: Sandra Dick
Fari Fotoalist
Looking at her photography transports the beholder into the strange and wondrous moment between reality and dream, when you still see the images from your dreams clearly, almost physically felt, but the story behind them is already dissolving into oblivion... Her photos are impulsive and seductive and ignite the desire to become an active part of the dream.

Perhaps Danielle De Picciotto said it best: "I love your photography – you make things look like in a Fellini Film"!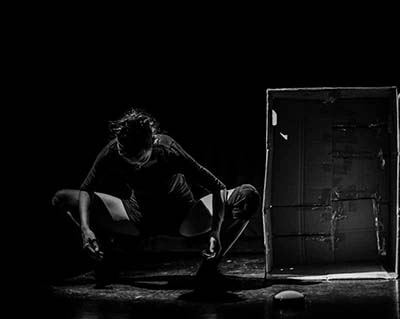 Photo by Fari Fotoalist