05.07.2013 - 27.07.2013
Übermensch - are we superhumans?
Hassan Abdelghani | Jovan Balov | Claudia Christann | Bruno Dimartino | Bettina Düesberg | Gugu Flux | Sebastian Götz | Bojan Hocevar | Glenn Keelan | Suzanne Klingenberg | Wilko Königsmann | Pablo von Lichtenberg | Javier Lozano Jaén | Biljana Milkov | Robert Pauletta | Birgit Schiemann | Bojan Sumonja
Opening on 05.07.2013 at 19.00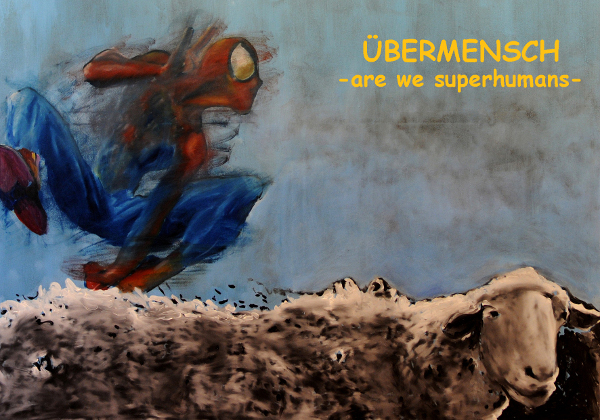 All the world's a stage,
And all the men and women merely players:
They have their exits and their entrances;
And one man in his time plays many parts.
- W. Shakespeare, "As you like it"
Thus we are all players, actors in our own daily play. All of us act - stage ourselves, project expectations, idealize, are puppets of our sense of self, of our subjective view on ourselves, the others and on the world. Thus everyone is an artist and the space, the time and all the participants dictate the staging.
This exhibition wants to invite the visitor to this staging, from the artificial point of view of the exhibiting artists, to participate in this play.
What finally lasts is: to isolate and identify the "Übermensch" in our daily play and to see what we share and what separates us, to see the beauty and the ugly, the complex and the naive aspects, the hyper real and the abstract things in the staging of this group exhibition and to ask yourself: When do I stage the "Übermensch" and if on what stage?
Text by Sebastian Götz, Good Times Factory
Hassan Abdelghani
Hassan Abdelghani (born 1965 in Osijek, Croatia) was educated as a photographer in Copenhagen, Denmark, where he started his own school for photography. He now lives and works in Pula, Croatia, where he is art director of the gallery Makina with the focus on the contemporary photography. His late works center around old photographs on the gravestones of the deceased. The Pictures of these small mementos, which immediately show its own decay, are raising questions concerning the memories of the past, what comes after or even of the forgetting. The topic wakes feelings of sentimentality, melancholia, even fear and anger.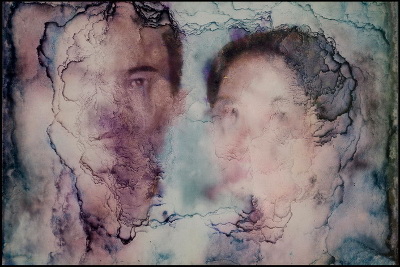 http://www.hdlu-osijek.hr/index.php/lanovi/60-hassan-abdelghani
Jovan Balov
Jovan Balov (born 1961 in Skopje, Macedonia) reflects social and political history critically through his art. In his contemporary works he revives classical sculptures and historical figures by masterfully painting. Within his painting he skillfully inserts eyes into the eyeless sculptures bringing them back from the past into the present. Thus he is critically reflecting the interpretation of history within the present societies.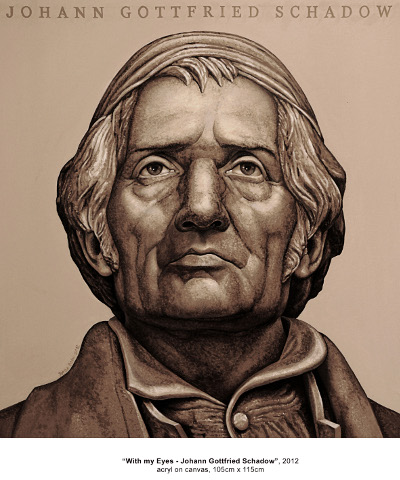 Claudia Christann
The camera is constant companion of Claudia Christann (born 1978 in Berlin, self-educated photographer). The metropolis is her stage, its inhabitants are her protagonists, her actors and her statists. Claudia's pictures catch every-day situations almost in a casual but nevertheless with a very sensible eye for the scenery. On second thought her works reveal the comedy and tragedy of the urban way of life.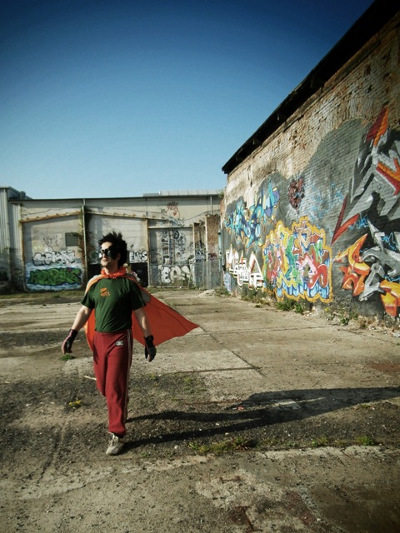 http://www.artists.de/claudia-christann.html
Bruno Dimartino
Bruno Dimartino (born 1966 in Chelles, France) works as a painter and sculptor. His sculptures have artificial relations to several eras, like the humanistic tradition from where he cites Ovid and his "Metamorphosis", the gothic era with all the wild animalistic figures, as well as the Renaissance or the Belle Epoque. He presents his works in the overall art historical context and creates works, showing and respecting the nature and the human being of the past, present and future in a sense that you do not have to destroy in order to create. Bruno Dimartino lives and works in Berlin, his works won several prices and he is closely tied to the art center "Tacheles".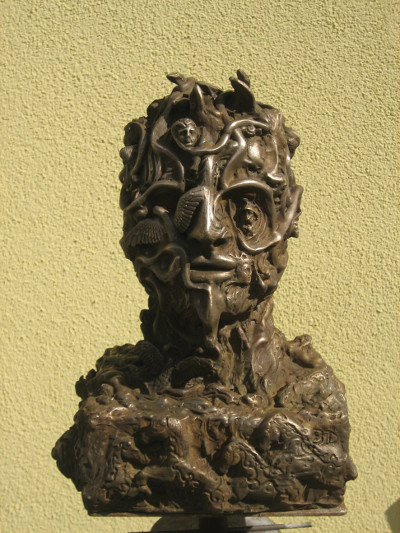 Gugu Flux
Wild! The works of Gugu Flux radiate in a frenetic, protesting ferociousness which connects all his art. Often his expressive style reminds of comics or pop art, as well as the excessive choice and variation of colors. The main topic is the portrait which appears in many ways and specifically ask the question of own identity and in general of the role of the individual and also its acceptance or decline.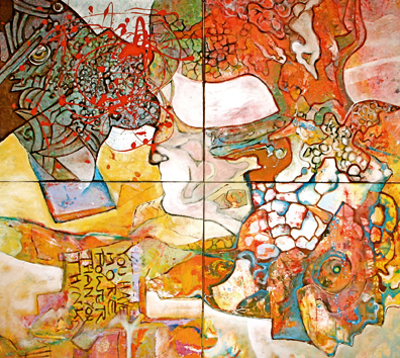 Sebastian Götz
The central topic of the work of Sebastian Götz (born 1981 Kronach, Germany) is the self and it's staging. All works were made off clay, fired, were given a form and glazed. All masks were assembled out of separate organic parts - these build a multiple basis, an illustrative model for oneself and others. The questions like "what is it, that is visible?", "how to interpret something being seen by myself or others" and "is something being subjectively perceptible universally valid or simply an appearance of the fragile moment?" are obvious, but what about the answers?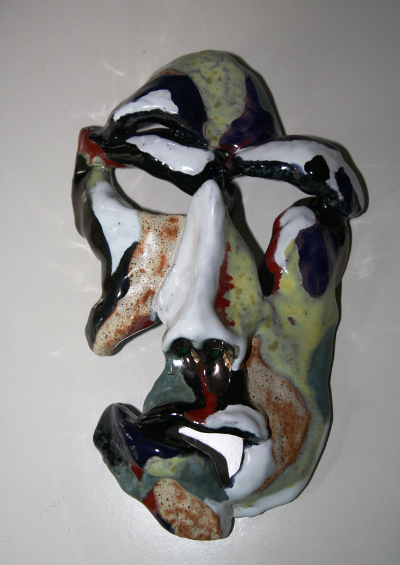 https://www.facebook.com/babtiste
Bojan Hocevar
Children, again and again children are appearing in Bojan Hocevar's works. But there is darkness, an imminent danger, childhood is no utopia, there are no heroes that are coming to rescue: The children have to make it themselves! That is where the hope is, that is where the strength is: within - at times - our childish selves!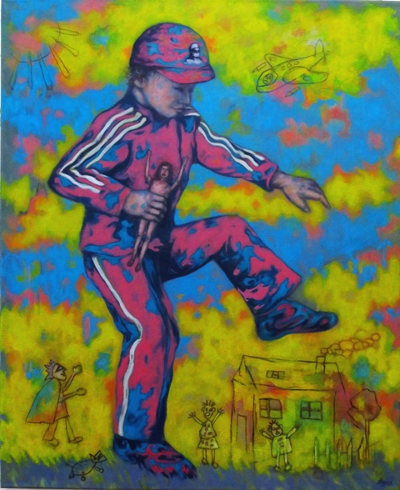 http://www.artists.de/bojan-hocevar.html
Glenn Keelan
Glenn Keelan is intrigued by the human condition with all its imperfections and fragility; this is what motivates him to create works which he intends to depict in a raw, fleshy, organic and unprocessed way. "An early love for technical drawing has helped to fine tune his attention to detail. His initial reason for using pencils was because of the control that I could achieve, but now, having progressed with more self-confidence, I no longer feel the need to exercise control; instead I am now more equipped to experiment, explore and discover new possibilities within the medium."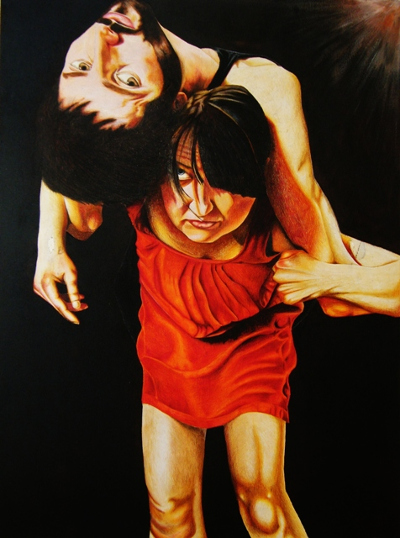 http://www.glennjamesjohn.wix.com/glennkeelan
Suzanne Klingenberg
In this exhibition the protagonists of Suzanne Klingenberg (born 1968) are small composite beings. Discarded plush toys and puppets which hold visible personal histories and obtain in special and for them designed spaces their insubstantial power back and thus small worlds come into existence. The mirroring and alienation of reality can open gates to other realities and change matter. Suzanne Klingenberg lives and works as sculptor and art-therapist in Wendland, Germany.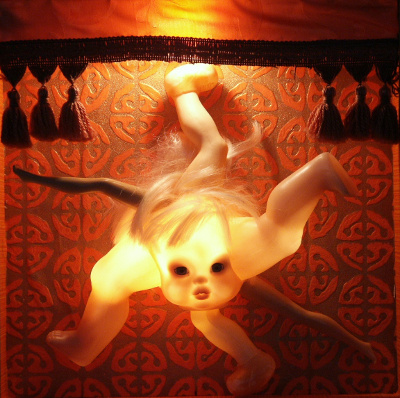 http://wendland.dramaten.de/kunstkomplexx/susanne-klingenberg/
Wilko Königsmann
Wilko is a Tacheles artist and organizer of Art Festivals in Berlin, e. g. East meets West and 5 days Tacheles. His exhibitions focus on group exhibitions, in particular with the friends and colleagues of the now evicted Kunsthaus Tacheles. Besides his numerous exhibitions like in Rome, Milan, Prague, Berlin, Leipzig, Potsdam, particularly the exhibitions at Kreuzberg Pavilion Documenta 13 in Kassel (2012) and the Museum of Contemporary Art in Minsk (2013) should be emphasized."My painting is an ongoing experiment in the sense of Karl Valentin: Art comes from ability, but once you achieved the ability, it is no longer art ". And so, while his roots remain clearly visible in the classic modernist, his work remains subject to constant change.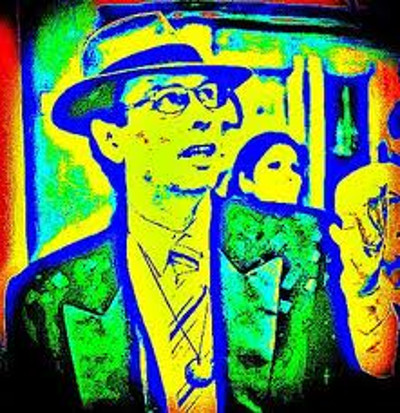 Javier Lozano Jaén
The work of Lozano Jaén (born 1981 Spain) is mainly about painting and artist books. He is a member of the archive of artist of Matadero (Madrid), he has exhibited in commercial and non commercial galleries like Galerie St St (Berlin) La New Gallery (Madrid) Galería Alegria (Barcelona) or G Gallery (Houston). He collaborates with Ediciones Puré and Pogobooks. He graduated at the UCLM, Spain.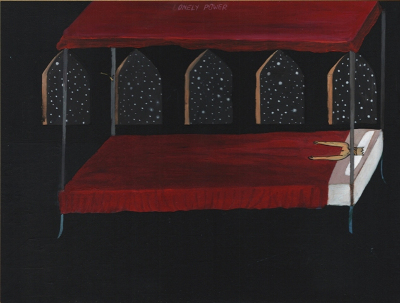 http://javier-lozano.tumblr.com
Robert Pauletta
Robert Pauletta (born 1961 in Permantura, Croatia) graduated from the Academy of Fine Arts in Zagreb at the Painting Department. From 1991 to 2003 he teaches professional subjects and the theory of design at the School of Applied Arts and Design in Pula. In 2004 he takes up the leading position at the newly founded MMC Luka where, aided by his cooperators.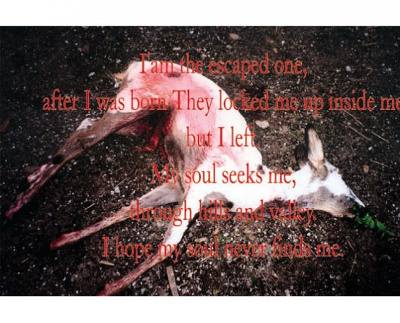 http://www.robertpauletta.com/en
Birgit Schiemann
In the contemporary works of Birgit Schiemann (born 1963 in Werneck, Germany) the human being and its social surroundings constitute the focus. Her protagonists are accurately colored while the surrounding reality is painted in shades of grey. This obvious contradictional tension between human individual and its social context is critically reflected and shows a sensible grasp of the human cosmos. She represents the painter of the human subject, an artist of hope within the human self. Birgit Schiemann lives and works in Berlin and in Wendland and is closely tied to the art collective "Tacheles".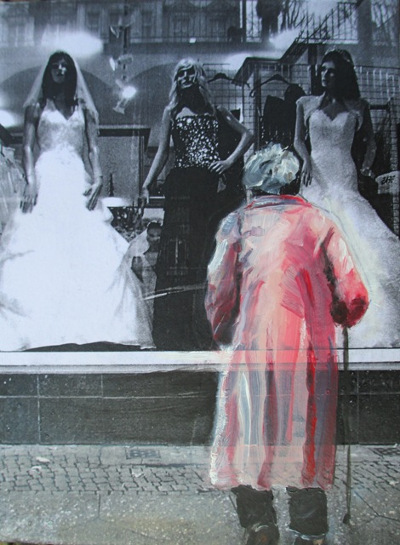 Bojan Sumonja
The painting Sheep by Bojan Sumonja resembles some kind of inverted, amazing allegory. The flock of sheep, as the only motif of the work floods the entire surface of the canvas. In the perspective of close and expressed foreground it seems as if the sheep will slip off the edge of the painting and the chosen colors summon up the effect of contrasting black and white, white fleece and black shadow, also present in black and white photography, puts animals in a pastoral setting, thus creating an atmosphere of slight anxiety and uneasiness, insecurity and uncertainity,  giving a meaning to the saying "the lost sheep".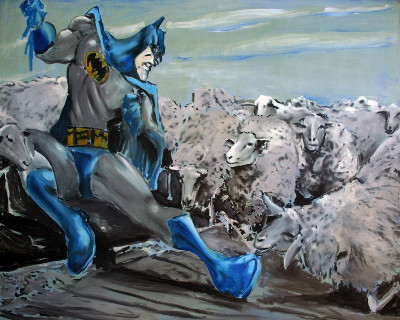 Bettina Düesberg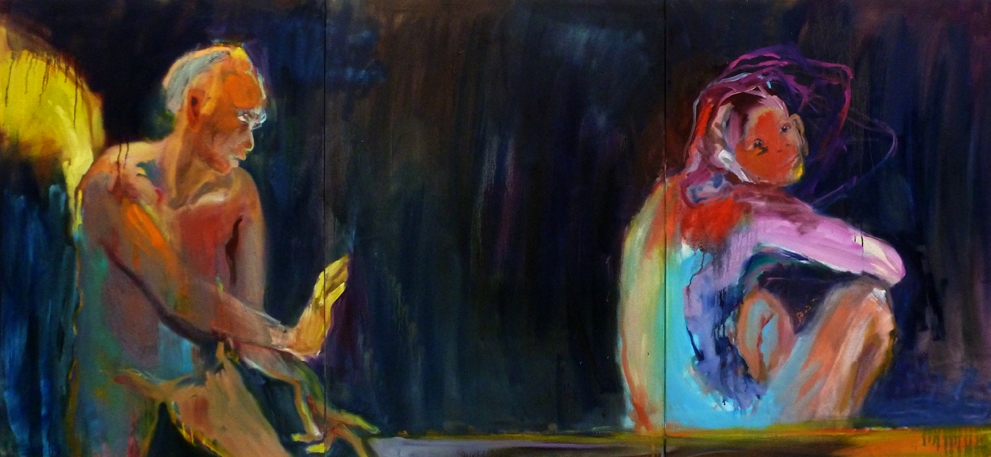 Pablo von Lichtenberg
Pablo von Lichtenberg (born 1959 in the US) is currently working in mixed media assemblage, collage and multi-media installations & sculpture, incorporating found objects and images into bodies of works he refers to as RASA (Recycled ARTifacts as Structural Assemblages). He is a self taught artist living and working between Berlin and St. Louis.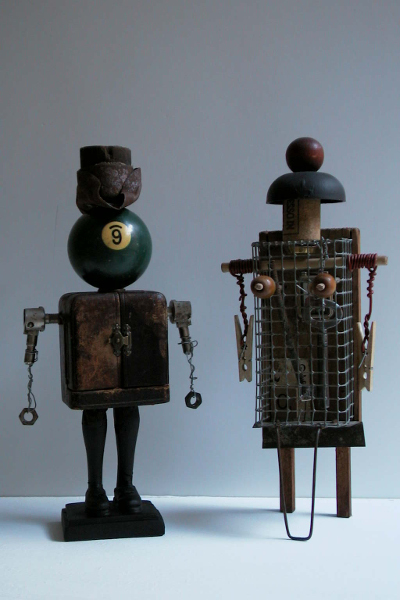 Biljana Milkov
Biljana Milkov, graduated in Fine Arts at the Universität der Künste Berlin in 2008. She is concerned with art since 1991 - in a, as she would say "multitasking kind of way". Apart from painting the artist is interested in video installations which you can check at the links below.
https://www.youtube.com/watch?v=JA7fDIlhLsc
https://www.youtube.com/watch?v=yyiRU-RHQxI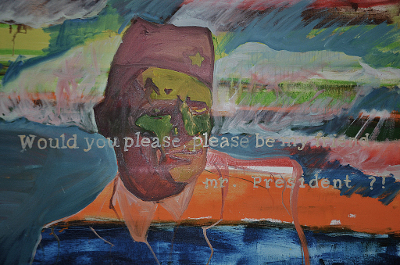 https://www.facebook.com/biljana.milkov/photos